At
ScrapCity
, a few of us signed up to do an ATC swap. I have NEVER made an ATC before, so I really didn't know what to do, but this is what I ended up with!
I used some Marcella paper that I got at Target a long time ago. Since it's NOT double-sided paper, I used a different sheet for the back of the card, and I just adhered them back to back. I stamped a couple of Stampin' Up stamps. The "genuine article" circular sentiment and the "I Like Your Style" stamp are both Stampin' Up images. I added some American Crafts ribbon, a small Making Memories safety pin, a rhinestone trio, a Prima, and a Making Memories button for the flower center.
This is the back side of the ATC. I added more Stampin' Up images. "Original" and "No." are once again, both Stampin' Up. I numbered the ATCs, and then I added information about me and the date created. I created that information on the computer and just printed it out. The little flower is from a Stampin' Up punch. The center of the flower is a small rhinestone.
Here's a close up of the ATC front. What do you think?
This is the back of the ATC. I have to admit, I'm pretty happy with the way these turned out!! It was fun to create!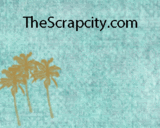 I want to also mention that a very fun online crop is being planned at
ScrapCity
starting February 20th. It's going to be a Sketch Fest!! If you haven't joined ScrapCity yet . . . why haven't you? We have so much fun over there. In addition to the upcoming Sketch Fest online crop, we will also be issuing all of the February challenges in a couple of days. Of course, all of these activities have PRIZES!! I am the Sponsor Coordinator for
ScrapCity
, and let me tell you . . . you will DEFINITELY want to see the February prize!! It's AMAZING!! So, get over there, join up, and take a look around! You won't regret it!
So, I've got some cleaning to do, and then I'm hoping to get some creative time! I hope you have a great day, and thanks for stopping by!!